iUNIK Centella Calming Gel Cream 60ml
iUNIK Centella Calming Gel Cream 60ml
"Kbeauty Products by www.kbeauty.com.bd (A Shopaholic 69 Concern)"
2 in stock

CENTELLA CALMING GEL CREAM
This light and moisturizing gel cream helps calm sensitive, stressed, or blemish-prone skin with 70% Centella Asiatica leaf water and 10% tea tree leaf water.
Blemish Calming
Brightening & Wrinkle Care Double functional cosmetics
60ml / 2.02 fl.oz
MADE IN KOREA
How to use: After using basic toner, gently apply a suitable amount along the face, rubbing from inside to outside until fully absorbed.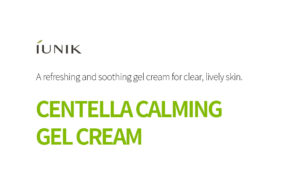 Brand
iUNIK
iUNIK is a K-Beauty Skincare brand, which products are formulated with natural ingredients. The word iUNIK stands for "Ideal Unique Natural Ingredients Knowhow". The brand's products are filled with K-Beauty's favorite ingredients such as tea tree, galactomyces, black snail, centella asiatica, rose water, hyaluronic acid, sea buckthorn etc. It stared its journey in 2016 and gradually strengthen it's position to the skincare lovers through their quality products. Find authentic iUNIK products at reasonable price in Bangladesh from us.