INNISFREE Camellia Essential Hair Oil Serum, 100ml
INNISFREE Camellia Essential Hair Oil Serum, 100ml
Innisfree Products at reasonable price in Bangladesh.
Out of stock

INNISFREE Camellia Essential Hair Oil Serum formulated with fermented and fresh camellia oil from Jeju Island to provide healthy shine to damaged hair. It's a light, nice smelling and does not leave your hands oily nor make your hair limp. It keeps hair looking frizzy. Find authentic Innisfree Camellia Essential Hair Oil Serum at reasonable price in Bangladesh from us.
1. Double treatment with fermented camellia oil and Jeju camellia oil
This serum offers double treatment with fermented camellia oil to provide nourishment to damaged hair and Jeju camellia oil that is absorbed deep into damaged hair to coat the cuticles.
2. Silky smooth hair with moisture from Jeju camellia
It works to keep hair healthy and smooth by providing intense treatment to split ends and tangled hair that have become damaged by regular perming and hair dye.
3. Lustrous hair care with styling at the same time
Provides nourishment to every single strand of hair and helps you get silky, smooth and straight hair.
Ingredients: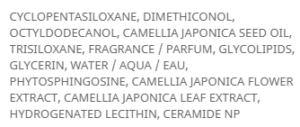 Brand
INNISFREE
Innisfree is a South Korean Cosmetic brand  and it is one of the most favorite skincare brand for skincare cravers. Find authentic Innisfree products in Bangladesh at reasonable price from us. We sell original Korean products. innisfree started its journey in 2000 as a Korean first natural beauty brand. In 2006, it launched its olive line. In 2008, it Launched  its one  Jeju Green Tea line. Jeju green tea line is very well known and one of the best selling products in Bangladesh. In 2010, in the first decade celebration of innisfree, it launched Jeju Volcanic line.